M&T Insured Deposit Program
Get access to a network of financial institutions that, together, can offer millions of dollars of FDIC insurance coverage and liquidity.  Plus, you'll get the convenience of working directly with M&T as your single point of contact.
Convenient, insured cash management solution. 
How the Insured Deposit Program works: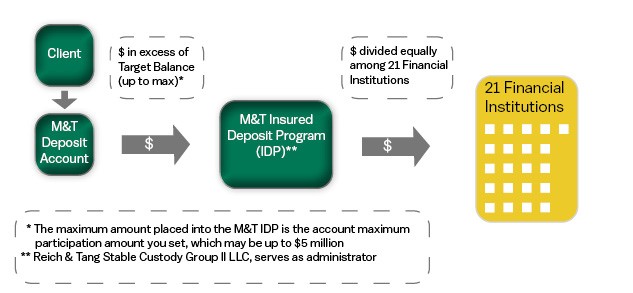 Please contact your Relationship Manager, Treasury Management Consultant or call M&T's Treasury Management Service Team at 1‑800‑724‑2240 (option 2, option 4), Monday-Friday, 8am‑6pm ET.
M&T Insured Deposit Program (IDP) is subject to the program terms and conditions set forth in the agreement between you and M&T. Please contact us for a list of banks and other institutions into which your funds could be deposited through IDP.  The IDP is NOT, itself, an FDIC-insured or NCUSIF-insured product. Rather, under IDP your funds are placed into deposit accounts at participating banks or other financial institutions that are insured (in accordance with applicable rules) by the Federal Deposit Insurance Corporation ("FDIC") and/or National Credit Union Share Insurance Fund ("NCUSIF") for up to the current standard maximum deposit insurance amount (presently $250,000) per eligible depositor, per insured participating institution, for each ownership capacity or category.  Please note that, for purposes of determining such FDIC/NCUSIF insurance coverage, deposits placed at another institution through the IDP will be combined with any other balances the depositor may hold at that institution in the same account ownership category, directly or through other intermediaries, including broker-dealers. FDIC and NCUSIF insurance coverage is only available to protect you against the failure of an FDIC or NCUSIF insured institution, respectively, that holds your deposits under the IDP program (and does not protect against the failure of any other party, including the administrator that allocates deposits among participating institutions called Stable Group II, LLC). IDP is primarily designed to offer expanded FDIC or NCUSIF insurance on your funds and is not designed to provide you with investment enhancements, higher rates of returns, or profits on your funds. 
*Withdrawals from your Program Deposits are made through M&T and cannot be made directly by you through Stable or any of the Receiving Banks. Funds from the Program Deposits will generally not be available to you until the following business day after you make the withdrawal request. In the event that M&T does not receive enough funds to cover your entire withdrawal request (if, for example, a Receiving Bank fails to send funds as instructed by the Custodian Bank (pursuant to Stable's instructions) or a Receiving Bank is closed due to holidays or other events, such as a result of a Receiving Bank failure), the funding of all or a portion of your withdrawal requests could be further delayed. If M&T decides to advance funds to you in anticipation of a Program withdrawal, you will owe the amount of these funds to M&T, and M&T will retain the amount that it advanced to you from the funds it receives from the Receiving Banks.